iPhone 15 Pro Repair Dubai- We Are the Best At What We Do
the latest phone in the iPhone series is the 15 Pro. And those own one knows how expensive the gadget is! And imagine what if you break it! The repairs are even more expensive unless you get it repaired from us in Dubai. How do we do it? Here is everything you need to know about our carefully curated iPhone 15 Pro Repair Dubai process.
Customized Solutions for a Wide Range of Issues
Each iPhone 15 Pro repair case is unique. From cracked displays and degraded batteries to camera malfunctions and communication problems, our experts have a wealth of experience handling many problems. Following the diagnosis, we create a unique repair plan that considers the specific issue your device is having, ensuring that all potential solutions are considered.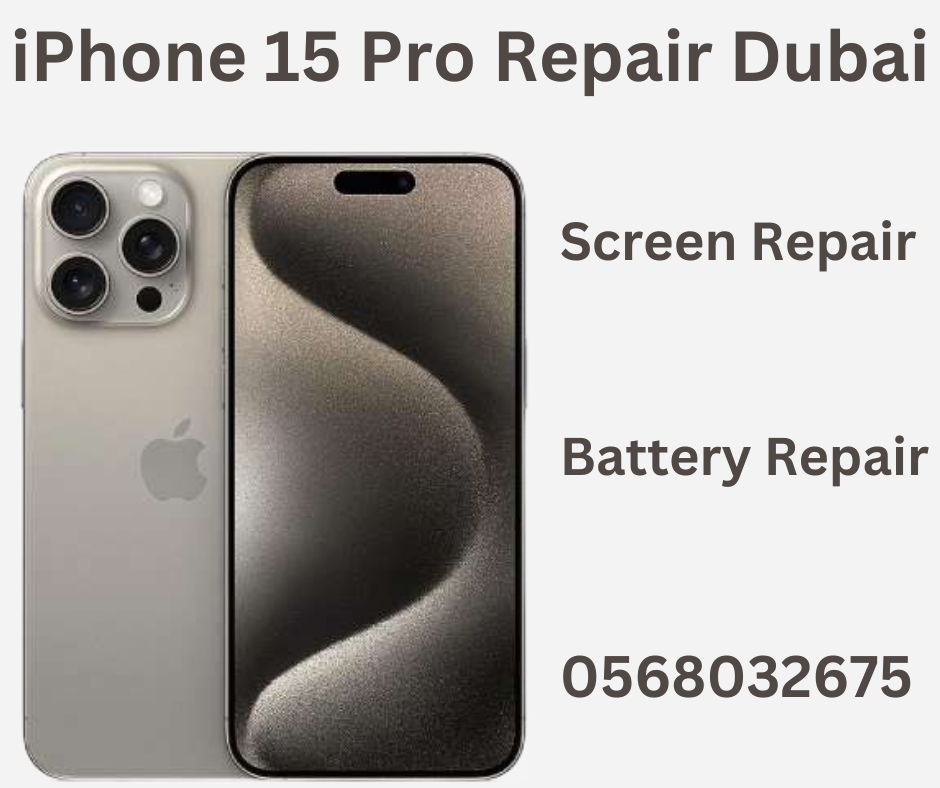 Quality Parts and Skilled Repairs
The quality of the iPhone 15 Pro Repair Dubai is of the utmost significance. We only buy original, high-quality replacement parts to ensure that your equipment functions exactly as it did when it was brand-new. Because they are familiar with the specifics of the iPhone 15 Pro, our technicians can carry out repairs accurately and carefully. Whether you require assistance with a difficult hardware issue, a screen replacement, a battery swap, or both, you can be confident that your device is in experienced hands.
Swift Solutions Through Accurate Diagnosis
At our service center, we understand that every iPhone 15 Pro issue is unique. The initial stage of our thorough repair process, handled by our qualified specialists, is our rigorous diagnosis. Using cutting-edge diagnostic tools and techniques, we identify the root cause of any problem, whether it stems from a hardware defect or a software flaw. This procedure is necessary to ensure accurate repairs and prompt turnaround times.
We Talk You Through Each Step of the Process
We place high importance on transparency throughout the repair procedure. The diagnosis, repair progress, and projected completion date are all updated for our clients. Thanks to this open line of contact, you will always be informed and able to decide on the repair of your device. The need to maintain connections in the modern world extends to our relationships with our clients.
Speedy turnaround times
We know how important your iPhone 15 Pro is to your everyday routine. We strive to do this without compromising the quality of our repair process. Our technicians carefully complete repairs quickly so you may return to using your device as soon as possible. We respect your time just as much as you do.
Detailed testing and quality control
Your device is thoroughly examined through quality assurance procedures before being returned to you. This ensures that the iPhone 15 Pro will function and perform to our high standards after being repaired. The comprehensive testing process demonstrates our dedication to the superior quality of our repairs.
So, next time you face the slightest problems with your iPhone 15 pro, do not take risks and bring it to us for the best iPhone 15 pro Repair Dubai service!